Was it something I said? Are you still into me? Please don't say, "It's not you it's me." We've all seen it. And as inside sales reps, we've all sent it, too. It's called the sales break-up email.
The sales break-up email, or as it would be more aptly named, The John Cusack Email, is that last ditch effort email in your sales cadence that's meant to grab the love and attention of your prospective customers.
And while we all wish the boombox over the shoulder tactic would be the magic bullet in every scenario, unfortunately, the SaaS industry isn't directed by John Hughes, and we're left having to find more conventional ways to get through to our prospects. The good news is, sending a well-crafted sales break-up email is the much easier (and lightweight) sales strategy.
To start, let's look at the 7×10 cadence structure of an Outbound Sales Development Rep. The entire cadence spans a seven business day period, with a combination of ten phone, email, and social touches. It may sound desperate, but believe me, it takes at least 8 touches to reach modern sales prospects these days, so every try counts.
Email 3, the final email in the sequence, is where the sales break-up email lives. The reason for this is, if by this point in the cadence, your prospects either haven't responded to your previous touchpoints, they've gone completely radio silent via email, or *GASP* they've started screening your calls, then chances are: you've been ghosted.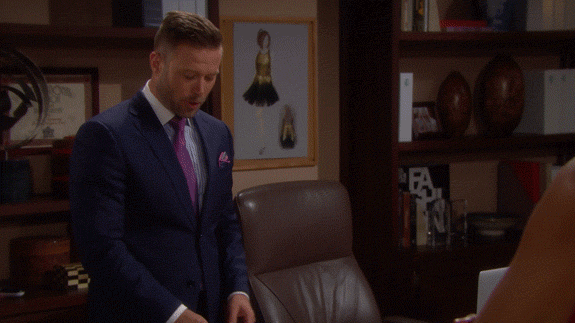 The fact of the matter is, whether you've been ghosted, given the Irish goodbye, or any other form of conversational retreat that lacks the proper exit signal, this is your opportunity to call it like it is and break up with your prospect.
Keep in mind, the point of the sales breakup email isn't to proclaim, "I was too good for you anyhow!" Reason number one being: that's bridge-burning behavior. And reason number two being: no one says anyhow anymore.
But in all seriousness, the sales break-up email is the place for you to:
Give them one last chance to hear you out.
Remind them of the value you can add to their process.
Let them know your intentions going forward.
Take this sample sales break-up email from one of the Salesloft SDR's outbound cadence:
With just a few simple points (and the help of a trusty gif… Giphy FTW) Tyler was able to give his prospect a last chance to reply, a reminder of the benefit Salesloft can have on their sales process, and a clear message letting them know that he's ready to let go if they are.
It's not rocket science — when it comes to your prospects and your product, they're either right for each other or they're not. And most prospects know whether they want to swipe right or not, they're just too timid to break it to you. That's why it's important to be the voice in this scenario and speak up for what you want, which in this case, is a simple yes or no. (And remember, no isn't always the worst answer in sales.)
Take the time to craft your own sales break-up email to let your prospects know how you're feeling. Chances are, there's a few out there that either hadn't gotten a chance to get back to you yet, need to get to know you a little bit more, or, you know, their phone was 'off' or something…
Either way, give them the opportunity to see the value you have to offer, and the benefits they could be losing out on if they don't call you back. After all, what have you got to lose? You're a catch. 😉
—
For a more comprehensive look into Salesloft's internal SDR process, download our free playbook and optimize your sales efforts to start crushing your sales development goals today.